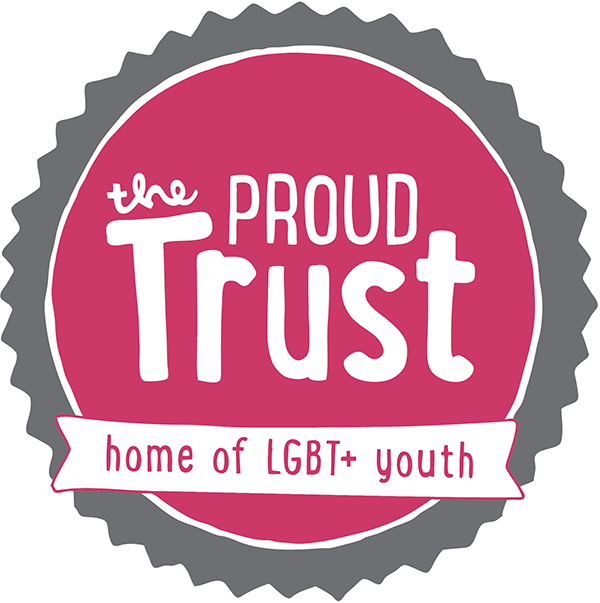 The Proud Trust is a life changing charity providing education, support and advocacy for LGBT+ young people and their communities. The Proud Trust delivers youth work and one-to-one support across Greater Manchester and Cheshire. The charity also runs a national training and inclusion programme for schools, Proud Connections Live Chat, and manages Manchester's LGBT+ Centre, The Proud Place.
We can trace our roots back to the 1970's and the Gay Youth Group that met in Manchester, initially in Waterloo Place, and from 1988, the Sidney Street purpose-built Gay Centre.
The organisation became a Company Limited by Guarantee in 2005, after extensive consultation with LGBT+ young people and youth workers across the north-west of England. At the time, the organisation was known as LGBT Youth North West and set about addressing three main aims:
Creating a better support network for LGBT+ youth groups and young people.
Keeping young LGBT+ people on other people's agendas, so that schools, colleges, governments and other organisations considered and addressed LGBT+ needs.
Providing opportunities to bring young people together through regional events such as, Pride Youth Games, peer educator training and conferences.
From 2009 as local authorities closed many of their youth services, The Proud Trust began to directly deliver LGBT+ support in six boroughs of Greater Manchester as well as Cheshire West and Chester.
In 2015, the organisation changed its name to The Proud Trust to reflect our aspiration that every young person can be proud of their identity, without fear or shame. This hope also extends to all communities and wider society being proud of their LGBT+ young people.
In the years since, we have continued to put LGBT+ young people at the forefront of our work. We support young people across the north-west and beyond through youth groups, peer support, mentoring programmes and more. We work with and support adults in trusted positions, including schools and other children's services, helping them make spaces more LGBT+ inclusive as well as improving confidence in tackling discrimination and celebrating diversity.
https://www.facebook.com/theproudtrust/
https://twitter.com/theproudtrust
https://www.instagram.com/the_proud_trust/
01616603347
49-51 Sidney St, Manchester, M1 7HB